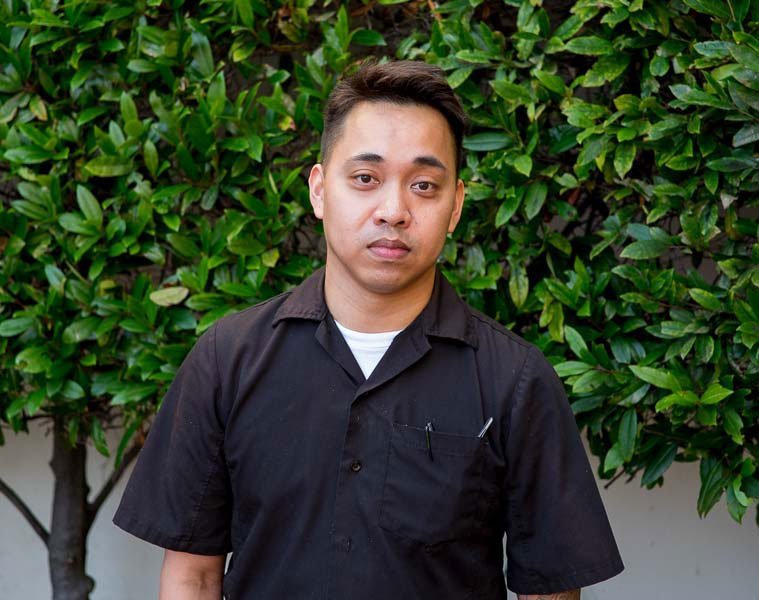 Past: TRUST, Rancho Valencia Resort and Spa, JRDN Tower 23, D Bar
Studied at: The Art Institute of California – San Diego
What is the first recipe you ever baked?
My grandmother's chocolate chip cookie recipe, when I was nine years old. At the time, I didn't really know the essentials of baking as far creaming the butter and sugar, adding the eggs one at a time and sifting the dry ingredients or what temperature the oven should be, so I just watched her make them then I scooped them out. Of course, they turned out awesome right out of the oven. From then on, I started experimenting with the recipe by adding M&M's, peanuts, marshmallow, etc.
What's your go-to dessert?
Ice cream in general has always been my go-to dessert, but ube is my favorite flavor because I grew up with it. My parents would buy it from the local Filipino supermarket or an Asian supermarket.
What are some of your favorite flavor combinations for desserts/baked goods?
Lemon and cream cheese, chocolate and banana, salted caramel and cream.
What inspired you to become a chef?
My grandmother inspired me to become a baker because she was the one that taught me how to bake. She would always make every dessert that she could think of for birthdays, weddings, anniversaries, etc. When I was a kid I would always watch every minute she baked. It wasn't until high school that I realized that baking was going to be a career. I knew then that I had to go to pastry school and it wasn't going to be easy. Everything I've learned in pastry school were the essentials as far as technique and work ethic, but my grandmother taught me to bake from the heart.
What advice would you offer to anyone looking to start a culinary career?
It starts with inspiration. Start reading pastry or cooking books now. Start researching chefs that you aspire to be one day. Start researching restaurants with the style that you're interested in. Start working! Go apply as a prep cook for a bakery or a restaurant. It's not going to be easy but once you find your inspiration, passion will follow and everything else will fall into place.